30 DAY SINGLE ENTRY DUBAI VISA
Apply for a 30-day Single Entry Dubai Visa to enjoy yourself there. You can travel, enjoy sightseeing, meet family members, and tour the emirates while carrying this visa in your bag. The 30-day stay is the maximum allowed, while the visa is valid for 60 days after the date of issuance.
How can I apply for a 30-day Single Entry Dubai Visa?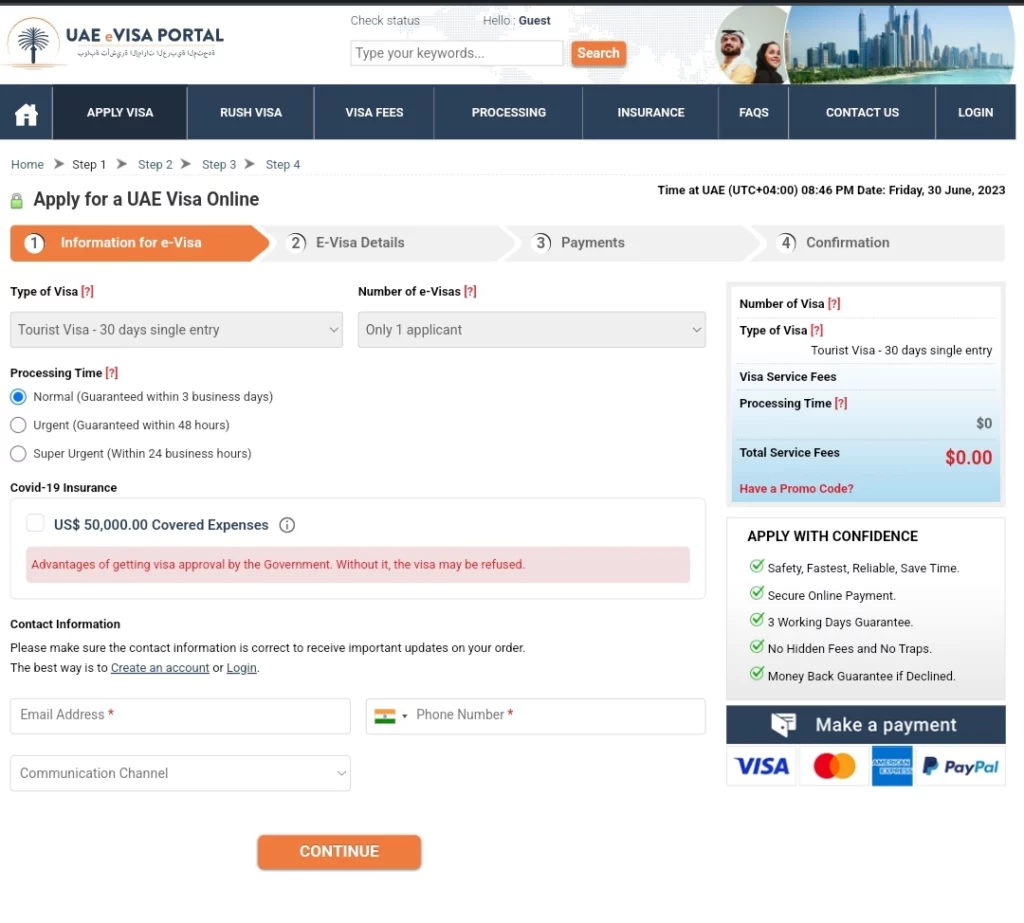 The following steps must be taken by a traveller:
The Dubai Visa Application Form tab will appear in the menu.
Provide true details in the space provided. A passport copy and colour photo should be uploaded. To add additional applicants, click the Add Another Applicant button. Next, select the tab for Application Submission.
Make payments using a credit card, debit card, or visa card, and you'll receive an email confirming the application's submission.
What documentation is needed for a 30-day Single Entry Dubai Visa?
Obtaining a visa will require two papers. Really? Indeed, it is. A passport is valid for 60 days before the trip begins, and a passport-size photo is also required. Children under the age of 13 are required to present a birth certificate.
What is the purpose of a 30-day Single Entry Dubai visa?
Just one entry is allowed per visa. As soon as you leave Dubai or another emirate, it suggests that you are not permitted to enter on the same visa. You have 30 days from admission to stay in Dubai or other emirates while keeping this visa in your pocket.
What appeal does the Insta Dubai Visa have?
Complete security using the top 256-SSL Encryption in the market
Smart processing from visa experts
Complete support via 24-hour chat support, WhatsApp, phone, email, and skype
Payment methods that are simple to use: Visa Card, Credit Card, or Debit Card
With a reference number, tracking applications is simple.
Approval rate of about 100%
Some details regarding the registered email address
What is the processing time for a 30-day Single Entry Dubai visa?
While early visa applicants can choose Fast Service, Standard Service offers issued visas in 2 to 3 business days.
Points to be noted
For Dubai or other emirates, Insta Dubai Visa does not offer any visas pertaining to employment.
A printout of a permit or visa must be kept.
Your registered email address will receive a pdf of the accepted visa.
Before visiting Dubai or other emirates, include a printout of your issued visa.
GCC nationals can only enter Dubai or other emirates by displaying a current passport at the immigration counter.
You can travel throughout the UAE if you have a Dubai visa.
Online 30-Day Visa for Dubai
Both single-entrance and multiple-entry visas are available for a 30-day Dubai visa. Before applying for one online, you must decide whether you want a single-entry or multiple-entry Dubai visa. a 30-day tourist visa with one entry You are only permitted to enter Dubai once, and your entry is good for a 30-day stay, which covers the date you arrive and leaves the UAE.
This Dubai tourist visa is valid for entry for 58 days after the date of issuance, with two 30-day extensions possible for a charge of AED 850 each. The 30-day entry tourist visa validity for Dubai is 58 days after the date of issuance. This can also be extended again for 30 days for an additional AED 850 each time. With this type of visa, your 30-day stay allows you to visit the UAE many times.
30-day visa fees for Dubai
The price of a 30-day Dubai visa with only one entry is INR 6000. But if you want your visa quicker, you can apply for an express service, which normally takes just 24 hours as opposed to a standard visa's 3–4 working day processing time. The cost of an express visa for a 30-day visit to Dubai is INR 7655. A 30-day Dubai visa will cost INR 14,025 for individuals who select a multiple-entry visa. Nevertheless, there is no distinct Express option for multiple-entry visas. So, the price of a multiple-entry, 30-day tourist visa for Dubai stays at INR 14,025.
FAQs
How can I get a 30-day tourist visa for Dubai?
Applying on Yatra.com is possible by visiting our visa section and choosing the UAE as your travel location. Before you can upload the necessary papers, you must first pay our commission and processing charge there using NetBanking or another e-wallet. In addition to filling up and submitting the paperwork on your behalf to the consulate, we will verify the papers for you. The e-visa is then delivered to your registered email address once it has arrived.
Exists a clause allow for an extension over a single entry visa?
Please select the Visa Extension menu option and request an extension if needed.
What is the duration of a 30-day Dubai tourist visa for entry?
A. The entrance validity of your visa is 58 days from the date of issue, regardless of whether you chose a 30-day single entry or multiple entry visa to the UAE. This can be extended again for another 30 days for an extra AED 850 each time.
How long does it take to get a 14-day visa for Dubai?
A standard 30-day tourist visa for Dubai costs INR 6000 in processing fees. The processing fee increases to INR 7655 for Expedited visas. This is so that, as opposed to the former's typical 3–4 working day turnaround time, the latter allows you to receive your visa in just 24 hours. A multiple-entry, 30-day visa for Dubai costs INR 14,025, and no express option is available for this type of visa.