Dubai International Airport(IATA: DXB; ICAO: OMDB) is the Primary International airport serving the United Arab Emirates Dubai and is the world's busiest airport for international passenger traffic.
As a major international airport, Dubai International is a hub for travellers both within the United Arab Emirates and from around the world. It's no secret that the residents of Dubai are fixated on all things luxurious and prosperous.
Those looking for an elegant and relaxing vacation destination go to Dubai, a city called "The city of superlatives."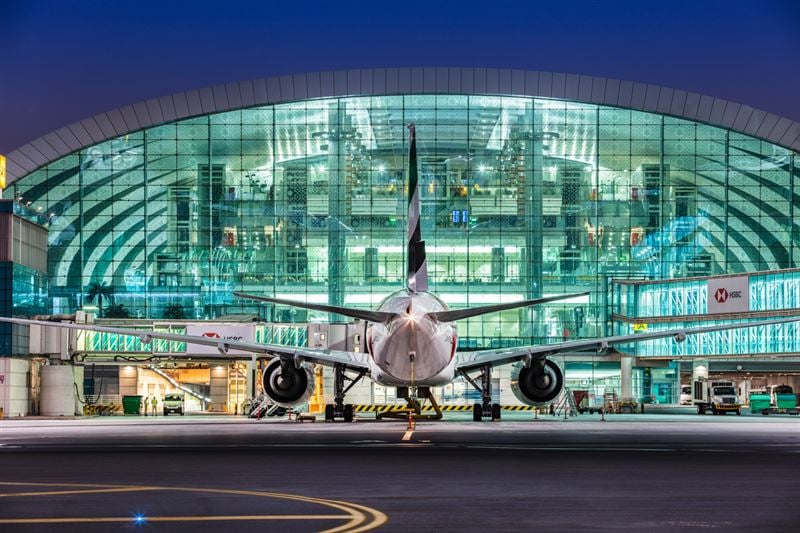 Millions of tourists visit Dubai annually to take advantage of the city's world-class facilities and extravagant culture.  Terminals 1, 2, and 3 make up the Airport's three terminals, and its four concourses allow passengers to travel in whatever direction. Terminal 1 is used by charter aircraft and is not connected to the Airport's main terminal.
The Airport's metro system links the terminals for take-offs and landings. Low-cost carriers, including Air India Express and flydubai, use Terminal 2. Currently, Emirates is the only airline allowed to use Terminal 3.
How to get Dubai Airport(DXB)?
You can get the following Transport options From Dubai Airport:
By Bus: Sky Bus, on the other hand, only costs around INR 350 for a ride into the city or almost half the price of a cab.
By Taxi: The fare into the centre city will run you about INR 800-850. The airport is served by the Government owned Dubai Taxi Agency, which provides 24-hour service at the arrivals in every terminal.
By Metro: Metro, if you want to save money on transportation, take the metro into the city's heart for just INR 50-100.
By Rental Car: To get into the city, you can take an Uber for about INR 900.
Facilities at Dubai Airport
You can get the following Facilities & Services options From Dubai Airport: 
– Duty free shops
– Wi-Fi
– Restaurants and Cafeterias
– Currency exchange offices
– ATMs and Banking
– Car rental companies and Office
– Parking lots
– Transportation access
– Prayer rooms & Baby care rooms
–  Lost & found
– Baggage storage
– Smoking lounges
– Home check-in services
– VAT refunds
Dubai Airport Information
Airport Specifications:
Airport Code: IATA: DXB / ICAO: OMDB /WMO: 41194
Airport Name: Dubai International Airport
City Name: Dubai
Country: United Arab Emirates
Distance from city: 4.6 km from east of Dubai
Direction from city: East of Dubai
Address: Department of Civil Aviation, Dubai Airport, Dubai, UNITED ARAB EMIRATES
Tel: +971 4 224 5555
Dubai International Airport (DXB) has 3 passenger Terminals:
Terminal 1: Terminal 1 has a capacity of 45 million passengers. It is used by over 100 airlines and is connected to Concourse D by an automated people mover.  
See more information
Terminal 2: Terminal 2 is used by over 50 airlines and Terminal 2 became the hub of Air India Express and flydubai.  
See more information
Terminal 3: Terminal 3 is currently the world's largest airport terminal. It consists of concourses A, B and C and exclusively used by Emirates Airlines.
See more information
Ahlan Business Class Lounge: Operated at Domestic Departure Terminal, Chennai Airport and 24 hours availability, Premium food facility etc.,
Get more informations   
Marhaba Lounge: Located at Terminal 2, airside and  opposite to Gate F3 and F4. 24 hours availability. Services are Wi-Fi, drinks, premium food, snacks, TV, telephones, smoking area, among others. 
Get more informations   
Plaza Premium Lounge: Located at Terminal 3, Concourse A. Services are  Wi-Fi, snacks, premium food, drinks, TV, Children's area, printers and copiers, telephones, showers, among others. Cost of pass is starting from 180 AED per passenger. 
Get more informations